Carlos J. Cruz
Associate Wealth Manager
Carlos began his financial services career in 2017 with an alternative investment software company as an Accounting Analyst and Client Relations Specialist. In 2019, he joined the Riverpoint team as a Client Services Associate.
Carlos graduated with honors from the University of Illinois at Urbana-Champaign with a bachelor's degree in Finance in 2017, holding officer positions in both the rugby club and an environmental action organization on campus.  He has been in the Finance space since graduation, transitioning from Financial Technology to Wealth Management in 2019.
Carlos lives in Chicago's Wicker Park neighborhood and has lived in the city for 4 years.  He enjoys spending time on his indoor plant collection and cooking new dishes from different cuisines.  Concerts and park visits are staples to his weekends, along with exercising and playing sports recreationally.  
Q&As with Carlos
Carlos Cruz
Tell us about yourself!
Q: Where did you grow up?
A: I grew up in Peoria (a few hours south of Chicago), the middle child with 2 sisters
Q: Where did you go to college and what was your major?
 A: University of Illinois at Urbana-Champaign as a Finance major.
Q: Family Life
A: I'm close with my parents and sisters, one of which lives in the Chicagoland area
Q: Where do you reside?
A: I live on the West side of Chicago in Wicker Park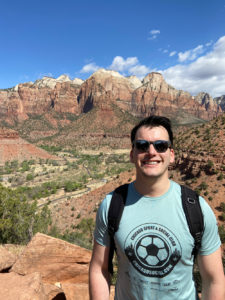 Q: What do you enjoy outside the office?
A: Gardening, cooking, weightlifting, going to concerts and festivals, playing sports, hiking, and touring breweries and museums
Q: Favorite vacation?
A: My favorite vacation was my time in Italy with my family, particularly the Amalfi Coast and Florence
Q: Where is someplace you have not been that you want to visit someday?
A: I would love to visit Thailand and Cambodia
Q: Favorite meal?
A: In general, I'm very partial to curry. The best meal I've ever had would be a sesame-crusted seared ahi tuna over papaya salad I had while in Hawaii
Q: What made you get in the financial planning profession?
A: My godmother is in private banking and inspired me to think about money as a long-term tool to meet my goals, which impacted my saving and spending habits. I also enjoyed psychology and personal finance courses in college which piqued my interest in behavioral finance and helping people think about money in a healthy, sustainable way.
Q: Pets?
A: I had a hedgehog (Quilliam Shakespeare, or Q for short) who passed away in late 2019 but currently have no pets. I am a dog lover and PAWS volunteer who is known by friends to get distracted petting them while out and about!
Q: Most influential financial book you have read?
A: Financial Markets, Oltheten & Waspi
Q: Favorite places in Chicago?
A: The Garden of the Phoenix in Jackson Park on the South end of the city. It's a gorgeous Japanese garden nestled between two lagoons and is an excellent place for quiet reflection.