Timothy P. McGrath, CFP®, CLU, ChFC
Managing Partner
(312) 239-1330
mcgrath@riverpointwealth.com


Tim provides financial advice to a select group of ultra-high-net-worth affluent individuals and families. He is regularly tapped as a specialist and knowledgeable source in his field and has been featured several times in major publications including The Wall Street Journal, Bloomberg, US News & World Report, Money Magazine, Investor's Business Daily, Washington Post, Financial Advisor, and Chicago Tribune.
Tim is a CERTIFIED FINANCIAL PLANNER™ (CFP®) and the founding Partner of Riverpoint Wealth Management. Known for his professionalism, uncompromising attention to detail and ability to communicate sophisticated financial concepts with ease, Tim brings valuable insights, unquestionable ethics, and a uniquely personal touch to the planning process.
In addition to earning the CFP® designation, Tim also holds the Chartered Life Underwriter (CLU) and the Chartered Financial Consultant (ChFC) designations. He is also a member of the Financial Planning Association (FPA). Tim received a Bachelor of Science degree in Finance from Illinois State University.
Tim and his wife, Bobbi, reside in Wheaton and have three children, Kyle, Brady and Kelly. Tim is engaged in the community through his involvement in the Financial Planning Association (FPA) as well as his participation as a mentor to a 10-year-old boy in the Big Brothers Big Sisters of Metropolitan Chicago program. He enjoys spending time outdoors in nature with his family.
Q&As with Tim
Where did you grow up? I grew up in Lombard, IL and went to Glenbard East H.S.  I have two sisters, an older sister Lisa who lives with her family in Gurnee, IL, and a younger sister Katie who lives with her family in Madison, WI.
Where do you live now? I have lived in Wheaton, IL since I was married in 1989.  Our home backs up to a park with a walking path which is a fantastic spot for walking the dog. I enjoy watching all of the activities that go on in the park-like little league T-Ball.
Are you married? My wife's name is Bobbi, and we met our sophomore year in college. She enjoys running, yoga, and volunteering for the MAGIC Foundation, which supports families with children that have growth disorders. She is a certified Health Coach and has her own business called (Be For You).  Her passion is to help people who struggle with their health transform their lives one step at a time.
Do you have any children?  I have three children.
Kyle, 28, lives in Manhattan, New York City, and works for Focus Financial Partners. He is a CFA (Charted Financial Analysis).
Brady, 25, lives in Boulder, Colorado, and is in sales for a start-up company FloWater in Denver.  FloWater's mission is to reduce single-use plastic bottles by providing commercial water filtration. Brady recently completed a 55k (34.2 miles) run in Eagle, CO, up on the mountain trails. He loves living in Colorado and enjoys all of the skiing, hiking, and camping it has to offer.
Kelly, 24, lives in Wicker Park, Chicago, and works for a private physician practice through Northwestern Hospital as a Certified Medical Assistant. She enjoys her medical profession and loves spending time with kids.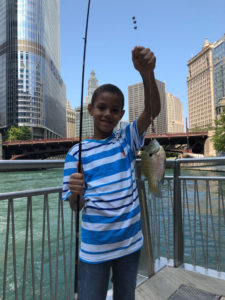 What other activities do you do? I enjoy working with children. For the past two years, I have been mentoring a ten-year-old boy named (Avontay) from Chicago through the Big Brother Big Sister of Chicago program.  We have fun hanging out, playing sports, and I enjoy supporting him as a positive role model.
What are your interests outside of work? 
Sports:
• I am a huge all-around sports fan, especially Chicago sports.
• I've been a diehard fan of the Chicago Bulls since I was a small boy and got to watch their practices with my dad at Wheaton College.
Fitness:
• I like biking,  jogging, yoga & lifting weights.
Nature:
• I especially like working in the yard and trimming trees.
• I enjoy kayak fishing.
• I like finding new places to explore and take in unique views.
Podcasts:
• I listen to multiple podcasts each week.  I increase the listening speed so I can listen to as many as possible.
• I'm constantly listening the podcasts when not in the office.
• The topics I enjoy are financial planning, markets, health/fitness, and Chicago sports.
Favorite Restaurant– Bavette's in River North & Redstone in Oakbrook Terrace
Favorite Pizza – Lou Malnati's Classic Deep Dish
Best Vacation – I really enjoyed South Africa. We took the whole family on a safari, and I was amazed at how many animals we saw and how close we were able to get to wild animals, especially lions and Elephants.  A little too close at times for my wife.
A person who influenced you growing up – I learned a lot from my high school basketball coach, who helped instill discipline and hard work. I enjoyed coaching basketball myself as I raised my kids.
Jobs you had growing up – I had a lawn mowing business and worked at Sportmart in Lombard.
Favorite place to be? We have a lake house in northern Wisconsin, and I love to fish, boat, kayak, and paddleboard when I am not tinkering around the house, finding projects to do.  It's an excellent place to spend time with our children.
Where is someplace you've not been to that you would like to visit someday? I have heard from many clients that Greece and the Greek Islands are amazing.  I would also like to visit Alaska because the terrain looks absolutely beautiful.
Do you have any Pets?
We are die hard dog lovers!  We have a 1 year old Golden Doodle named River